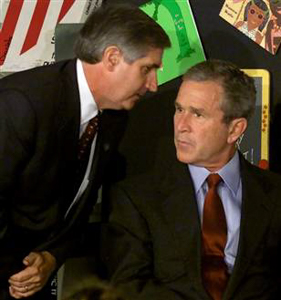 Former President George W. Bush and Chief-of-Staff Andy Card will be asked to appear and play themselves.

The movie opens with:

Andy Card will enter the Oval Office on October 3, 2001 with my very odd fax and President George W. Bush will peruses the October 4th packet of information while asking my four(4) questions of General Electric's former CEO Jack Welsh.

We move to a Federal Court House in Washington D.C.

The Judge reads my complaint: I am suing the United States of America to collect the anti-terorism fees available under the Patriot Act. I am seeking $225,000,000.00 + interest and the United States of America has been duely Invoiced via the USPS and I am in possession of the return receipt.

I will be on the witness stand and my attorney will present the evidence for the jury to view on flat-panel monitors and the defense attorney will be welcome to take his best shots.

The levity of My Cousin Vinny and the drama of A Few Good Men will be my goal.

The Judge will charge the Jury and then it's "off to the races."

Blog Comments and Psychic Response

Comment 11/4: Speculation? imagination? Name drops? Do these people even know you posted their likeness with comments? by Mike Farina
Response 11/4: Never speculate. Creativity. Mafia families know their names. Email was sent upon posting and you did not read the book.

Comment 11/5: McNamara for President! by Patrick Nance
Response 11/5: Awaiting Mike Bloomberg decision. Page 198 and October 15, 2015 re-request.

Comment 2/13: Trucchigta said: I'm extremely pleased to find this great site. I need to to thank you for ones time due to this wonderful read!! I definitely enjoyed every little bit of it and i also have you saved to favorites to see new stuff in your site.
Response 2/13: Thank you, I will update with video by the end of the month. Please share with your friends.